What Should You Pack for New Zealand?
Book your New Zealand Holiday!
Please contact us and we will help you to organize your trip! It's free and without commitment.
Ask a question ...
Read the post
Details
Advices
Presentation.
1

The Key Things to Know Before Traveling to New Zealand.

2

What Kind of Luggage Is Allowed by Your Airline Company?

3

How to Pack Your Suitcase Effectively?

4

What Kind of Clothes Should I Bring?

5

What Identity Papers and How Much Money?

6

What Are the Essential Accessories?

7

How to Make the Trip More Enjoyable?

8

How Not to Stress Before Departure?

9

Checklist for a Traveler to New Zealand.
---
The Key Things to Know Before Traveling to New Zealand.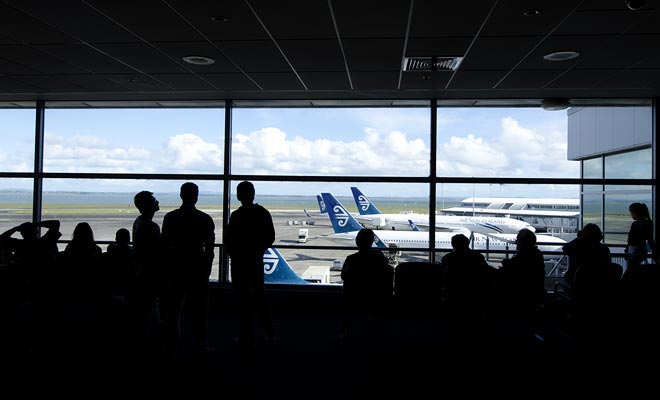 New Zealand's climate is temperate in most parts of the country. Most travelers opt for a stay between early spring and mid-fall.
If you travel during winter, our advice remains valid, but you should anticipate the cold weather with warmer clothes. Even in summer, the nights can be fresh in the southern parts of the country.
New Zealand is a land of adventure. The Kiwis consider that men are not supposed to pay too much attention to their look.
Although women care more for their dressing code, the style is definitely casual. At most, you may consider bringing some nice clothes to dine in restaurants.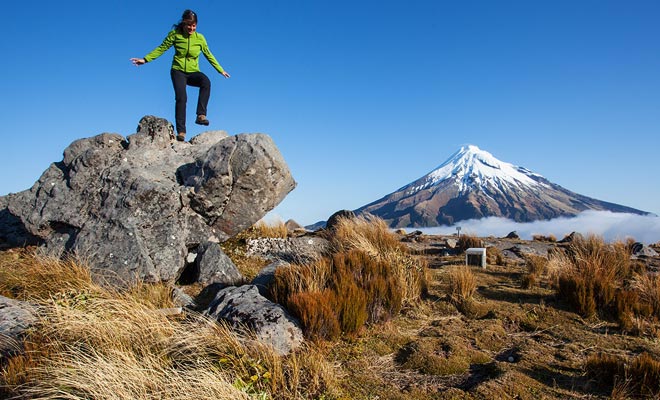 The weather is known to vary so often that one can live four seasons in a single day.
This may seem a bit worrying at first, but it is not. It is sufficient to wear several layers of light clothing, easy to add or remove depending on the weather.
Heavy and numerous luggage are a source of fatigue and stress, and they even increase the gas mileage of your vehicle, therefore the cost of the journey!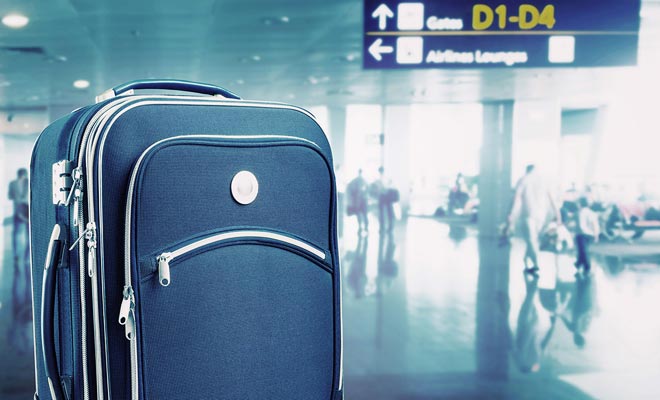 You will be able to do your laundry on site. All cities possess automatic laundry not to mention the lodges, B & B or camping which are often equipped. One must resist the temptation to pack everything... Easier said than done! I'll help you prepare your luggage from A to Z. But you are free to follow my advice to the letter or just get inspired by what I suggest.
---
What Kind of Luggage Is Allowed by Your Airline Company?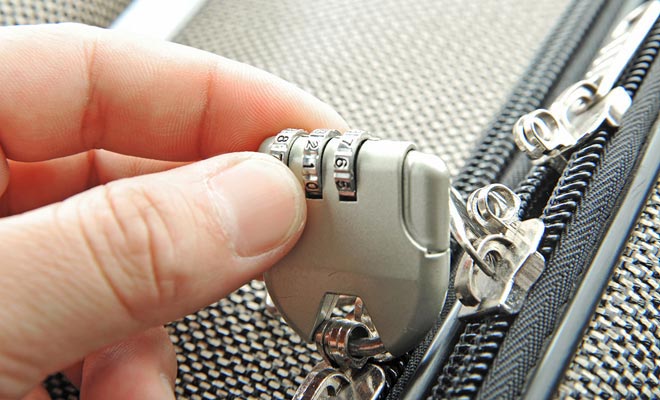 For a long flight, I recommend a good hard case. It must be equipped with a security code or a padlock if it is destined to travel in the hold.
The label is mandatory, but do not use the cheap paper labels provided at the airport. Prefer a leather one, less likely to be ripped off by staff who unloads luggage without attention. A sticker, or any way to easily spot your case among others is also to consider.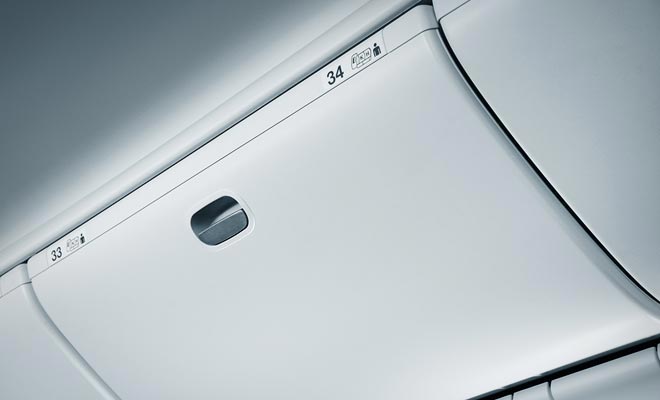 Airlines generally accept hold baggage whose cumulative weight does not exceed 20 kg (in the case of Singapore Airlines). The baggage you can bring in the cabin is usually restricted to 7 kg, with dimensions not exceeding 115 cm (please always double-check with your airline company).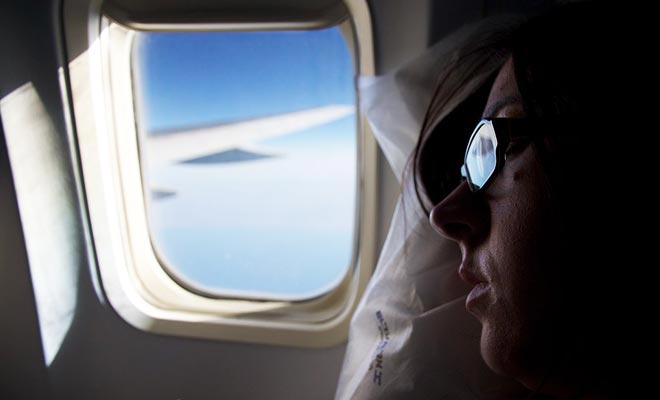 Consider purchasing any accessories likely to make the trip more enjoyable. Pillows for the neck, noise-reduction headphones, eye mask, ear plugs and stockings. Take anything that can help you to relax and sleep. You are now ready to pack your stuff, but there are some tricks to know if you don't want to play Tetris to fill your case!
---
How to Pack Your Suitcase Effectively?
The first rule is to never make your suitcase at the last minute. It is also not recommended filling it progressively during a week, as it is the best way to forget something.
It is better to reunite everything you plan to take before starting to fill the suitcase. When you have everything in front of you, my advice is to wait 24 hours before starting to pack. Nine times out of ten,you get enough time to realize that something is missing.
Electronic or fragile devices must be packaged and placed in the center to limit shocks. Try to maximize your storage! Everything that could be subject to customs controls at the arrival should be added on top to be easily accessible.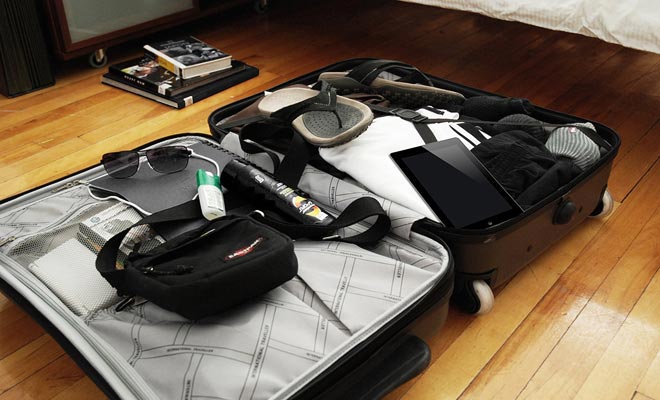 Heavy affairs and the least likely to be used during the trip are to store in the bottom of the bag or the case.
Clothes that are not folded in four take up less space (you can even roll them to optimize free space). The affairs that can be crumpled (socks, for example) will be useful to fill the holes.
Everything you take with you should be allowed by the airlines.
My article about the formalities explains how to pass the biosecurity controls. Please, take the time to read it before going to the airport.
---
What Kind of Clothes Should I Bring?
The headache often begins when it comes to the list of items to take. Here is the list of clothes I usually bring in New Zealand. This is a good base that you may complete according to your needs.
Hats
Something to cover your head during the hikes under the sun. A cap or hat, as long as it is not a kind of orange bob (you are a kind of ambassador of your country, remember).
Tops
I take a warm parka if I have planned to do the Tongariro Alpine Crossing (or any alpine trek), even in summer. It takes a lot of space, but it is better to have one than regret it later on the trail (of course, you could also buy a cheap one in New Zealand, but you'll have to bring it back at the end of the trip anyway).
Mornings and evenings are often fresh in New Zealand.
The ideal is to be able to overlay a shirt, a sweater and a windbreaker in Gore-Tex with a hood (the umbrella is to be avoided at any cost because the wind is often too strong).
Bottoms
Jeans, of course, but mostly for city walks (one must absolutely avoided them for hiking, because they need hours to dry in case of rain).
I add two shorts and a hiking waterproof pants.
A swimsuit is useful even in winter, because there are hot springs. If I plan to swim in the sea outside of the summer season, a combination is unavoidable. I also bring underwear in sufficient quantity..
Shoes
Before packing my shoes, I methodically clean them because I don't want them to be confiscated by the biosecurity services of the airport. This is not a joke! Please read my article about the airport formalities to learn more.
I take a pair of comfortable shoes for the city and the ordinary hikes. Beach sandals forare not essential, but practical. I, of course, add a pair of hiking shoes, made to my foot before (one must strictly avoid starting a long trek with new shoes!).
Finally, a pair of city shoes with spare laces and dressings for blisters.
Socks
Apart from the traditional socks, I pick three pairs of special hiking socks to reduce friction with the skin and avoid blisters.
Towels
I fold a towel, but I don't take sheets because they are always provided (in hotel of course, but also in camper-vans).
---
What Identity Papers and How Much Money?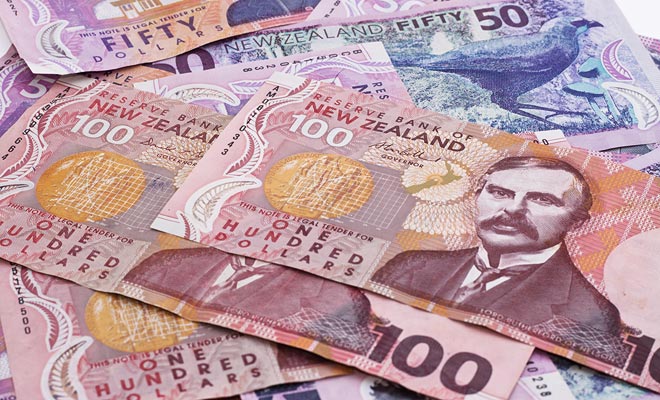 You should take bring photocopies of documents related to your trip. Keep the list of emergency numbers in your pocket, they would be useless at the bottom of your suitcase.
Swap the photocopies of your travel documents with people you are traveling with. This way, even if you lose your documents, a friend will have a copy of your passport.
This would greatly facilitate the formalities with the consulate or the police.
Regarding cash, do not put all your eggs in one basket.
I usually keep a part of my money on me and the rest in my cabin bag. I do not leave money in checked baggage even if they are plasticized.
---
What Are the Essential Accessories?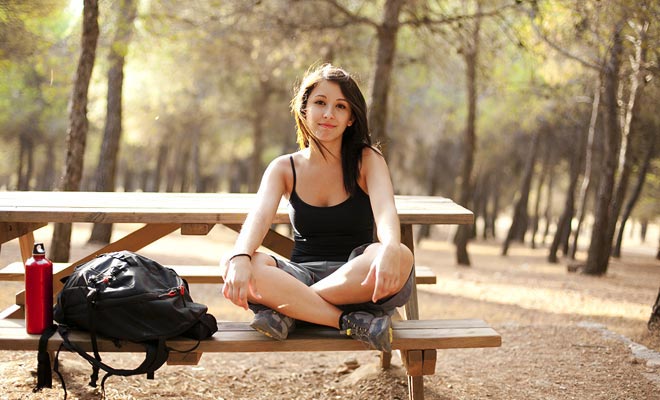 If there is indeed an indispensable accessory, it is the backpack. The small Eastpack bag that you may have kept from your student life may be sufficient for a small hike, but it is better to opt for a real hiking bag.
Backpack
However, it is useless to opt for a model heavier than what you plan to put inside!
Ideally, you should be able to store light clothes to keep your hands free. I often say that each participant should take his own backpack (this avoids disputes because each traveler carries only what he needs). Clean carefully your camping gear before leaving (I have repeated this advice about a hundred times on Kiwipal).
You will also need a kettle if you plan to hike over several days, but you may buy a cheap one on location.
Glasses
The glasses (whether solar or not) rank among the most forgotten items before departure. The solar glasses can easily be replaced, unlike eyeglasses! Be careful, this is probably the worst thing that can happen to you, especially if you plan to drive a car or a motorhome.
First Aid Kit
Dressings against blisters, shower gel, nail clippers ... it may be worth buying the necessary on site to simplify customs controls and lighten your luggage. The UV index is higher in New Zealand because the ozone layer is thinner. Plan a sunscreen with SPF 30 at minimum. The repellent against mosquitoes is essential, but I prefer to buy it locally.
I want to be certain that it is effective against the sandflies (small midges from the Milford Sound or the West Coast).
AC Adapter
New Zealand deliver an AC 230-240 V at 50 Hz. This standard is compatible with most European electric devices but, alas, there might be a plug difference. New Zealand's connecting plugs are flat and an adapter is necessary even if you live in the UK. You should buy this adapter in advance on the Internet or you will pay twice its regular price at the airport.
---
How to Make the Trip More Enjoyable?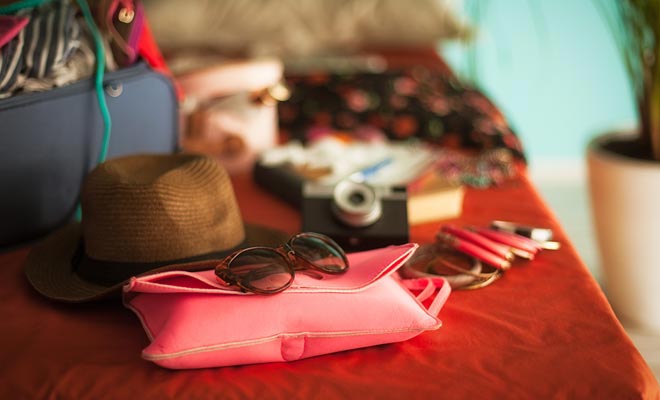 Apart from the essential accessories, there are several objects that can be helpful and make your stay more pleasant.
Travel Guide Books
If you follow one of Kiwipal's itineraries, I recommend reading only our articles written by experts. The bag is already heavy enough not to add a list of 800 pages' book filled with boring lists of restaurants (has someone really tested all these addresses?).
Otherwise, opt for guides like the Lonely Planet or the Rough Guide which are the most serious ones.
GPS & Maps
Most car rental companies charge the GPS rental.
If you already have an accessory like this, make sure you load the New Zealand's map in the memory card. Most smartphones include a native GPS feature, but it is almost always dependent on an expensive 4G internet connection.
The roadmaps will be provided by the car rental company, but even a basic map should be enough to follow your position on the easy New Zealand's road network.
Binoculars & flashlight
The mini binoculars and a small dynamo torch require little space in your bag, but they will be very helpful to observe wild animals or exploring caves.
Tablet & Smartphone
The vast majority of accommodations provide a Wi-Fi access, generally available for free or charged a few dollars. No need to buy an application, Kiwipal is free, and automatically adapts its display to every kind of phones or tablets.
Audio Cable Jack 3.5
For a stay that includes long hours of driving, this is a great piece of advice... This cheap cable allows you to connect a music device (like your smartphone) to most car stereo system. You will thank me when you will realize how New Zealand's radios playlists are terrible.
Beach Bracelet with Waterproof Pocket
It allows to go swimming while keeping a car key with you all the time. Ideal for not having to monitor your beach affairs every ten seconds.
Bag for Dirty Laundry
I take more plastic bags that I need. They always end up serving me in a way or another during the trip.
---
How Not to Stress Before Departure?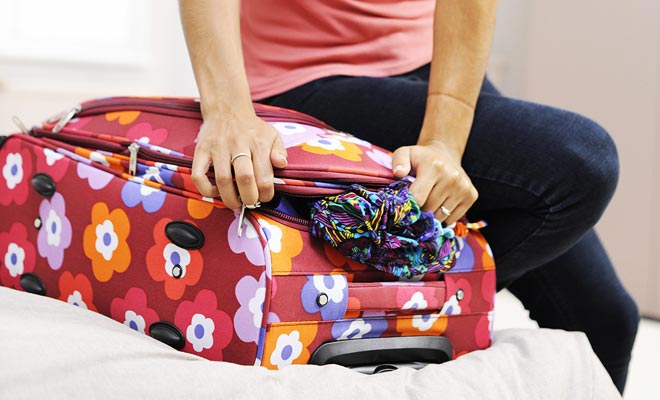 Ah the great happiness to prepare your luggage ... In reality, organizing a trip can prevent you from sleeping if you are in a hurry. To stay Zen, you should pack your suitcases at least three or four days before departure.
Keep calm and resist to the desire to take your entire wardrobe with you. We almost always forget something, there's no reason to make a drama (unless you forgot youreyeglasses). You will probably have enough time to buy an extra accessory at the airport before departure or even in New Zealand.
Keep some free space in your bags to store the souvenirs you may buy in New Zealand. And if you need to bend to lift your case, you should ask yourself some questions and remove some content! And if you fear the thieves, a useful airport service allows to have your luggage wrapped in plastic ($10 to $20).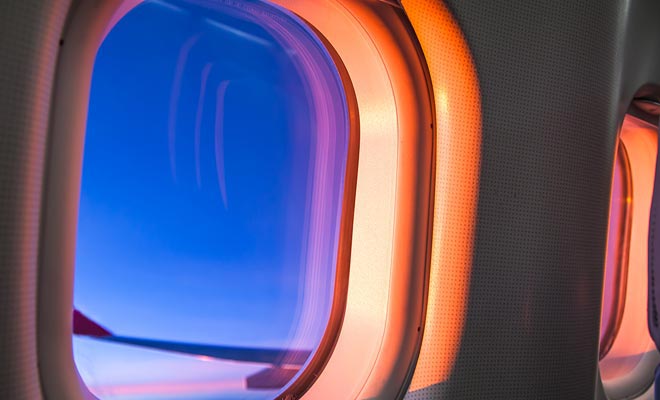 Traveling in an A380 airplane is an extraordinary experience, but can be a burdensome experience if your children are not occupied and bored.
Individual screens and the movies may captivate them a long time, but you should plan extra activities and make them sleep during this very long trip.
As a precaution, exchange some of your clothes with the people traveling with you. If by misfortune your luggage is lost by the airline company, you would still have something to wear.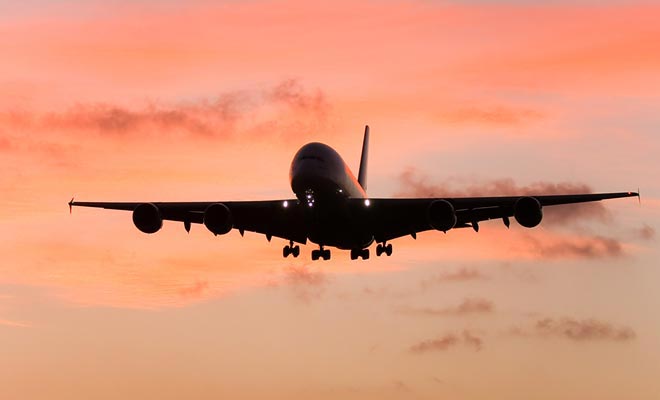 To conclude, here is my personal checklist. You may complete it according to your needs but do not forget to check the airport formalities before packing. Kiwipal wishes you a very nice trip to New Zealand.
---
Checklist for a Traveler to New Zealand.
This list is valid for spring and summer. For autumn and winter, one should opt for more cold-adapted clothing. The list is not exhaustive and can be completed according to your needs and activities on site.
TOPS
VÊTEMENTS HAUT
1 windbreaker
1 hiking jacket
1 light sweater
1 thick sweater
1 fleece pullover
3 t-shirts
1 shirt
VÊTEMENTS BAS
1 waterproof pants (Gore-Tex or waterproof)
1 jeans
1 short
1 swimsuit
1 pair of light sneakers (converse like)
1 pair of good walking shoes
1 pair of hiking shoes
1 pair of city shoes (optional)
1 pair of beach sandals
5 pairs of classic socks
3 pairs of special hiking socks
2 pairs of eyeglasses
1 pair of sunglasses (suitable for driving)
ACCESSORIES
1 backpack
1 water bottle
1 bag for dirty laundry
1 plastic bag for each pair of shoes
3 extra plastic bags
1 camera
1 smartphone
1 AC/DC adapter (optional)
1 AC adapter for NZ male plug with 3 flat plugs
1 3.5 cable jack male / male
1 noise-reducing headphones
1 USB cable
1 waterproof bracelet
1 Map of New Zealand
1 GPS (optional, but recommended)
1 mini-flashlight with dynamo
1 pair of mini-binoculars
1 neck pillow for the flight
TOILET BAG
To pack in a sealed transparent plastic bag!
1 tube of sunscreen
1 mini shower gel tube
Common bath products (toothpaste…)
IDS AND MONEY
Passport
Driver's license
International driving license (if needed)
Certificates of insurance
Airline tickets
Itinerary and proof of hotel bookings
Embassy address and emergency numbers
Photocopies of important documents
Means of payment
NZ dollars in cash
A Guide Written by William.
Founder of Kiwipal, New Zealand Travel Guide.
Questions & Answers.
What can I do for you? There are as many ways of preparing a suitcase as there are travelers. I cannot pack the luggage for you, but I can surely give you some tips.
All topics ...

10 answers in total

Luggage

4 answers

Clothing

3 answers

Accessories

3 answers
Luggage
Why should you avoid filling your suitcase completely?

If you're having trouble closing your suitcase, how do you plan to store the souvenirs you may buy during your stay?

What are the dimensions for hand luggage?

I could give you an answer, but the airline may change its policy, in the meantime ... It is better to consult the airline's website directly.

Should money be kept in our suitcase?

Keep your money and valuables in your carry-on baggage, not in your suitcase.

Should our bag be wrapped with plastic at the airport?

This operation was intended to discourage thieves who mingle with the airport staff. This does not constitute a protection against the loss of luggage.
Clothing
How to dress?

The weather is known for its sudden changes during the day. The trick is to wear layers of light clothes that are added or removed as a function of the temperature.

Why should we clean our shoes?

The slightest trace of soil under a trek shoe will alert the airport's biosecurity services. You will have to wait at the decontamination service. Avoid this waste of time, especially after an exhausting 24-hour journey by plane.

Should we bring beach towels in our luggage?

Linen is provided in B & Bs and in camper-vans, but towels are not included. Think of taking your towel if you plan on swimming.
Accessories
Should I buy a special AC adapter?

The voltage is 230/240 volts, but the sockets might not be identical to the ones in your own country. So consider purchasing an adapter, avoiding the shops of the airport where they are more expensive.

Do I need to buy a travel guide?

At a time when the internet is accessible everywhere for free (or against a few dollars), you will have easy access to Kiwipal. The purchase of a paper guide, especially if it is outdated, is no longer justified.Kiwipal on smartphones and tablets

Should I take a GPS?

A GPS is often offered as an option by car rental companies. Under these conditions, it is more interesting to bring your own device. But it is necessary to have loaded the map of the country into the GPS device! Nevertheless, if the purchase of the map costs more than the rental, the calculation will be done quickly...
From 1355 € / person
Any Question?
Seek advice from experts in New Zealand:
Invalid email or message is too short!
Message sent !
A Kiwipal guide will answer to you as soon as possible. Thanks!