Marine & Julien in New Zealand (6 months)
Book your New Zealand Holiday!
Please contact us and we will help you to organize your trip! It's free and without commitment.
Ask a question ...
Their trip in New Zealand.
1

Preparing the Departure to New Zealand.

2

The First Steps in New Zealand.

3

Some Will and a Bit of Luck.

4

Working as Scuba Diving Monitor.

5

Driving a Minivan in New Zealand.

6

Coming for Landscapes but Staying for People.

7

Traveling Advice From Marine and Julien.

8

Having a Break or Starting New Adventures?
---
Preparing the Departure to New Zealand.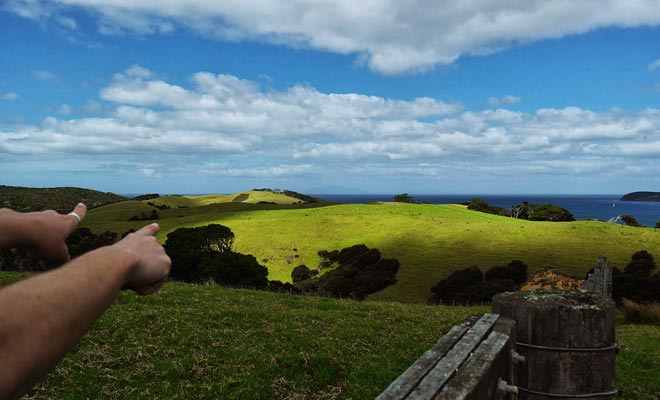 Deciding to leave the family and loved ones to go to the other side of the world is not an easy decision. If you are a candidate for the Work Holiday Visa, the experience of Julien and Marine can be useful to you.
Guillaume :
How did your families react when you announced you wanted to leave everything to go to New Zealand?
Marine :
For my family it depends, on one side they were happy for us, on the other side not really understanding why I was risking my engineering degree by dropping my job ... At our age, we are supposed to buy a house, get married, have children? But my friends were not even surprised, all of them very happy for us and eager for photos and stories. Several of them even took plane tickets to come and see us: awesome!
Julien :
Everyone (family and friends) approved my choice. Some said it was crazy enough to do this by leaving a long-term contract (especially now) and that they wouldn't have the courage to do the same, even if deep inside they would love to try. I guess my grandparents were less happy.
Guillaume :
What about work? I imagine your declaration was like a bomb ...
Julien :
I was pleasantly surprised by the reaction of my colleagues. They all told me it was great, and many said that they would love to do the same thing if they could. The fact of having announced it 6 months in advance gave the time to the company (about twenty employees) to plan for my departure. Opportunities to enjoy life are becoming increasingly scarce in Europe, and people understand that now. The Working Holiday Visa is a chance not be missed.
Marine :
My colleagues were very happy for me. On the other hand, my hierarchy had a rather surprising reaction, they did not believe in my departure! I had a fixed-term contract and they did not offer me anything interesting, neither a promise to renew it. I warned them a year in advance that if they had nothing to offer me I would leave. Six months later, still nothing new despite my requests. Too bad for them, we took our plane tickets. Just one month before the end of my contract they woke up ... Panic on board, no more project manager, but it was too late ... They thought maybe I was bluffing to have a better salary ...
---
The First Steps in New Zealand.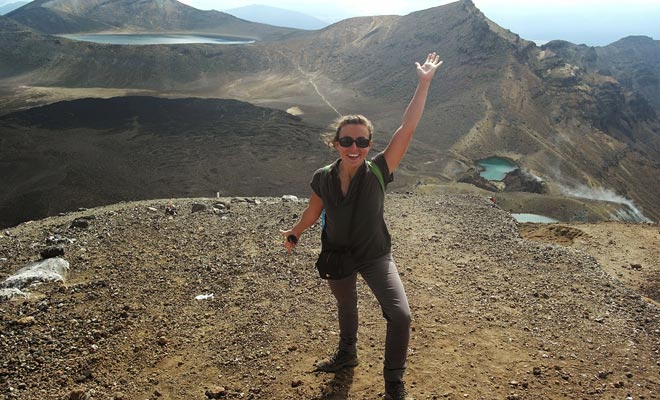 The first weeks of a Working Holiday Visa are often decisive. Without experience, it is easy to spend all the budget and put his stay in jeopardy. Those who manage to stay during a full year are often the most organized people.
Guillaume :
Did you leave immediately, or did you take the time to plan the trip?
Julien :
Marine had organized everything, so it was easy. I'm the kind guy who doesn't plan and I was not worried about our arrival in NZ, mostly because of my previous experience in Canada.
Marine :
I am an organized girl ... before leaving I had already
opened a bank account
and reserved a van to a Belgian traveler who was leaving the country the week following our arrival. I had also booked a week of accommodation in a small French family. We also had our diving equipment and skis ...
Guillaume :
Did all this organization proved to be useful in the end?
Marine :
The first week was quiet in
Auckland
: sleep well to recover from the jet lag, checking the minivan, taking care of the formalities (IRD, insurance ...) with the assistance of the French family. Preparation of the road trip for five weeks. In particular, we had to buy a roof box to store all our stuff.
Marine and Julien explain the visa and IRD formalities on their blog.
---
Some Will and a Bit of Luck.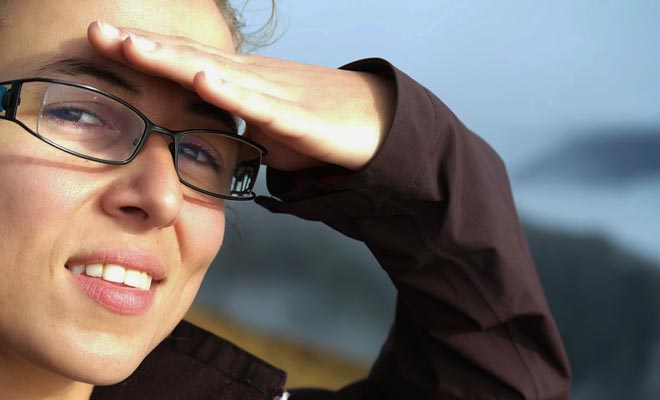 Few people can live without working during a one-year stay in New Zealand. But those who manage to reconcile work and leisure are even fewer. Marine and Julien are among the lucky ones.
Guillaume :
I continue with the question that primarily interests the candidates to a Working Holiday Visa ... how did you find work?
Marine :
Before leaving France, I had sent several resumes to diving clubs, and I knew we were arriving at the right time (just before the start of the season) to find a job. At first I found a job as a diving instructor in
Auckland
but after 3 days I put an end to it: dishonest employer, uninteresting dives, and teaching methods not to my liking (looking for cash all the time).
Guillaume :
Nothing like a bad start-up experience to undermine morale ...
Marine :
It was a difficult decision, because we had nothing else in view and we were starting to be a bit broke ... Then when we arrived in the Northland, Julien remembered that I had sent a CV at a diving club that looked nice, and he pushed me to go directly to the store to introduce myself: Bingo, I got a five-day trial period and a job at the key. I had a dream job for six months!
Guillaume :
But you're traveling as a couple ... did Julien had to
find work
in the same area?
Julien :
The area where we were going to settle for the summer depended on the job of Marine. Fate has chosen Tutukaka. This village on a beautiful coast attracts many tourists in summer. After having gone a month and a half to find a job, I had two small jobs: one in a campsite (Handyman) and the other in a restaurant. I found these two jobs on the very same day. Which demonstrates that one must never despair ! In the end, it was nice experiences, with employers `who are now friends.
---
Working as Scuba Diving Monitor.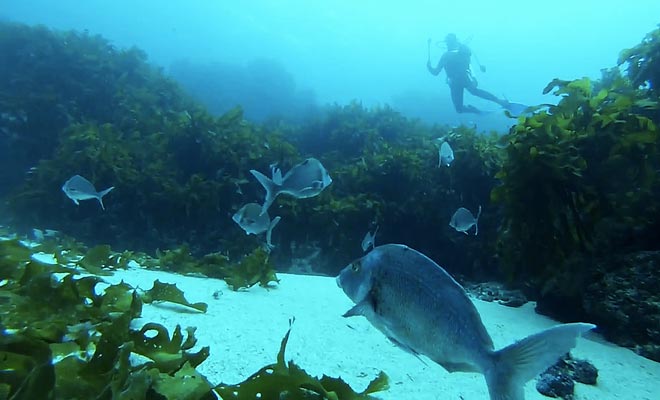 The dive site of the Poor Knight Island is spectacular.
New Zealand has exceptional diving sites. On Kiwipal, we already talked about diving at the famous Milford Sound, but there is an even more spectacular spot at the Poor Knight Islands.
Guillaume :
People often talk about the Poor Knight Islands as the best dive site, but what is special on this spot?
Marine :
One speaks of the Poor Knight Islands because Cousteau (you know, the French guy with the red cap) ranked this site at the seventh position in his Top 10 ofthe best diving sites.
Guillaume :
Can we expect to see fish of all colors?
Marine :
It is important to note that this is a non-tropical diving site (not coral nor small Nemo). On the other hand, there is an impressive underwater life (it is a marine reserve) full of surprises ... It is always difficult to describe what one feels underwater, especially when speaking to neophytes.
Guillaume :
Was your level of English enough to work with Kiwis on a daily basis?
Julien :
My English was not good at all, and it did not help at first. But if you work well, it's not a problem. At the base I am a laboratory technician, and the only chance of finding a job in my field would have been to settle in a big city. It was not the goal and I do not regret our choice.
Find the articles of Marine and Julien about diving.
---
Driving a Minivan in New Zealand.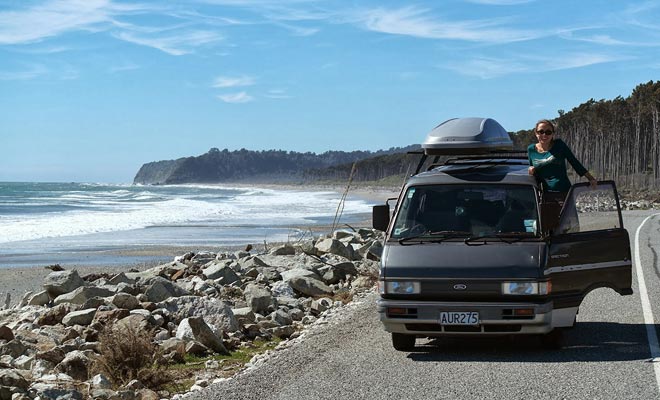 The baptism of driving on the left is part of the rituals unavoidable for each new arrival who does not come from the UK, India or any other country where people drive on the right side of the road.
Guillaume :
How was your first day on the road, especially when you have to drive on the left side?
Julien :
We had practiced in Ireland a few months before. I did well, but at first Marine had the bad habit to drive a little too much on the left. In town, it is rather easy because there is the flow of cars, the marks on the ground. In the open countryside, when you are alone on the road for hours and suddenly a car arrives in front of you, it takes a few seconds to remember on which side you should drive...
Guillaume :
Why did you choose a diesel van rather than an ordinary gasoline vehicle to visit the country?
Marine :
At the origin we chose this van because it was a good opportunity and it has an automatic gearbox, a plus when you come from France and you are not used driving on the left. Then, we have chosen this vehicle because it was really cheaper at the gas station despite the diesel tax! You can check Julien's budget calculations
on our blog.
All you need to know to buy a minivan in New Zealand.
---
Coming for Landscapes but Staying for People.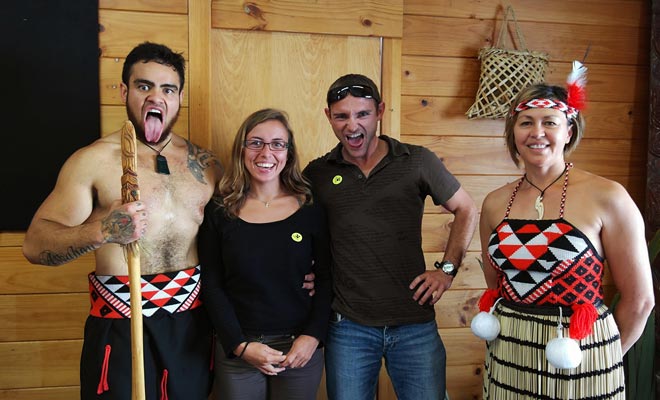 Some readers sometimes imagine that the New Zealanders' sense of hospitality is exaggerated to attract tourists. Is the reputation of the Kiwis justified or is it just a legend?
Guillaume :
How do you find Kiwis in everyday life?
Marine :
We came to New Zealand for its nature,
its landscapes...
but we did not expect to stay for
its inhabitants ...
They are really adorable, and in few days we feel at home. Trust is natural to them and they always try to help when they can.
Guillaume :
Can you give us an example that illustrates this legendary kindness confirmed by the majority of travelers?
Marine :
I was only working for four days in Tutukaka when one of my Kiwi colleagues asked me what we were going to do with Julien for Christmas? I replied that it was in two months, and that we were probably going to organize a picnic the beach. But my colleague refused to hear this, saying that Christmas is to be shared with a family, and she invited us to join them for Christmas to taste BBQ lobsters, fresh fish and all kinds of meats. We only knew each other for four days but we were glad to come and we brought a French dessert!
Julien :
These are simple people, just adorable, always ready to help. They just live. Education, the media and politics play a major role. In France, everything revolves around the crisis and it's anxiety-provoking. New Zealand is a bowl of oxygen.
Marine :
And this is just one example of their hospitality and kindness. We were staying two days in Auckland, with the parents of a friend, who offered us to stay the week. What I love about them is that there are no grumpy people! They always see a positive aspect in everything, and a solution to every problem ... it's so relaxing!
---
Traveling Advice From Marine and Julien.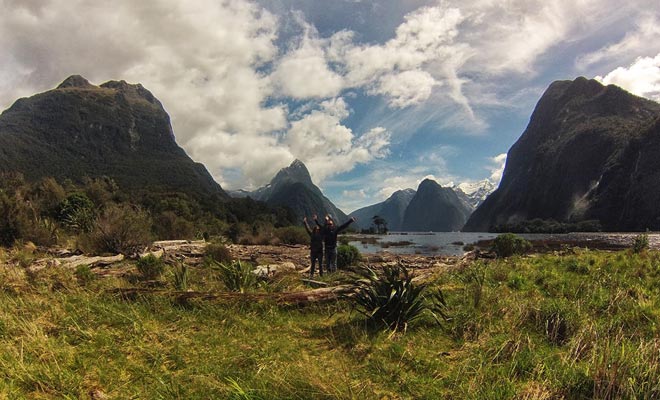 It is, of course, not a question of copying the journey of one and the other. But some advice is always good to take, especially when they come from someone who traveled with a Working Holiday Visa.
Guillaume :
Do you have any good addresses to share with Kiwipal's readers?
Marine :
The campsite in Tutukaka,
always clean and very welcoming. Similar praises go to Sandrine (the person who accommodated us for a week), very helpful and offering a translation service for official documents.
Here is her site
for those interested.
Julien :
And, of course,
Dive Tutukaka!
for a diving day at the Poor Knight Islands. The quality and friendliness of the crew are just great.
---
Having a Break or Starting New Adventures?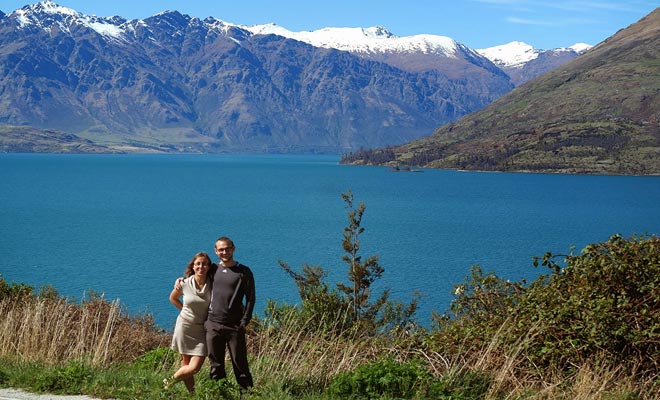 New Zealand offers such a strong feeling of freedom that it is often difficult to depart at the end of the stay. It may be cruel to ask two travelers how they imagine the future when they are still on location, but curiosity prevails.
Guillaume :
The question comes perhaps too early, but you still have six months of Working Holiday Visa, so are you going back to your own country right after or are you considering expatriation?
Marine :
Good question ... we do not really know how to answer it. Next destination in September: French Polynesia, where I found a diving job. After what, we think it would be stupid not to visit Australia because we are still eligible for a Working Holiday Visa (last chance for Julien) ... and after... no idea (or rather too many ideas!). This will depend on our professional orientation, if I want to work as a diving monitor, this is a bit complicated in France to work more than six months a year, unless you have your own club, or unless I am offered a real opportunity ... But New Zealand is definitely on the list of potential places where we could stay.
Julien :
Not answering will be my best answer :-)
Marine :
Now for this winter, it's Julien who will do the job of his dreams in the mountains, and I will find a little job next door.
Guillaume :
A big thank you to both for having taken the time to answer my questions while you're still on the road. I invite all the New Zealand fans to discover
your blog 1globe2reves
which is a gold mine. It presents a detailed story of your adventures and excellent practical advice (
how to choose a mobile operator
or a minivan ...). Hoping to see you both again in six months for a new interview. Until then, I wish you a good trip to New Zealand!
© Photos copyright Julien & Marine (1globe2reves.com).
---
Places visited during the travel in NZ
This map gives you an idea of the itinerary.
Best memories
Hospitality of the Kiwis
Quality of life
North Island Climate
Wild nature
Well-equipped campsites
Some regrets
Christchurch ruins
Few animals seen
Treks too easy
Activities rates (ski)
To have not seen Kiwis
From 1355 € / person
Any Question?
Seek advice from experts in New Zealand:
Invalid email or message is too short!
Message sent !
A Kiwipal guide will answer to you as soon as possible. Thanks!