Isabel With a Working Holiday Visa in Wellington.
Book your New Zealand Holiday!
Please contact us and we will help you to organize your trip! It's free and without commitment.
Ask a question ...
The trip in New Zealand.
1

Meeting With Isabel Lapuyade.

2

Isabel Arrival in New Zealand.

3

Living in Wellington.

4

How Did She Pay for Her Trip?

5

Meetings With the Kiwis.

6

The Atmosphere of Rugby Matches.

7

Unforgettable Experiences in New Zealand.

8

Best Memories in New Zealand.

9

And if It Was Possible to Start Over…
---
Meeting With Isabel Lapuyade.
Isabel spent nine months in the land of kiwis with a Working Holiday Visa. We met on Twitter and I discovered her exciting blog where she tells her adventures.
Guillaume :
Hi Isabel, before we start this interview, can you tell us your Whakapapa?
Isabel :
Whakapapa (pronounced " fakapapa ") is the genealogy of someone. For the Maori, it goes back to the arrival of tribes in New Zealand, and lies in the complex system of families and tribes. The Whakapapa is a kind of genealogical and geographic identity card.
Guillaume :
So what is your whakapapa?
Isabel :
When Boycie, my New Zealand surf teacher asked me this question, he did not think he would have to listen a mini European history. I was born in French Savoie, from a mother of Spanish extraction born in Algeria and who arrived in metropolitan France, in Besançon, in 1962. On the side of my father, born in the Saumurois, is a mix of French Meuse and Basque Country (with a little Béarn side).
---
Isabel Arrival in New Zealand.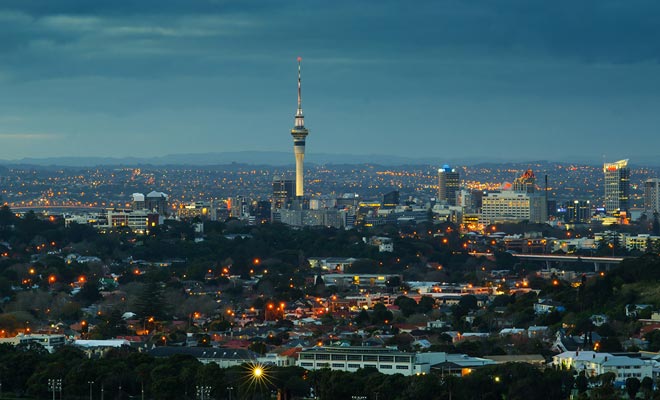 One does not travel during a whole year as one would do on holiday. The level of stress is otherwise higher and the preparations are not limited to taking sunscreen. Isabel, on the other hand, seems to be vaccinated against this fear of the unknown.
Guillaume :
Were you worried about traveling alone on the other side of the world?
Isabel :
Not at all. I had the opportunity to go abroad since my 8 years, in group first, and then alone since my 13 years. Of course, I was going to a host family that I knew very well, but taking a plane or a train, crossing borders, passing immigration controls ... I quickly learned not to worry. Of course, there are always moments when I wonder what I am doing on the other side of the world without anyone, but I think it adds to the intensity of the experience.
Guillaume :
It's quite rare to meet someone who has no apprehension! So, how were your first days in Auckland?
Isabel :
Overwhelming! I cannot find any other word. I was planning to continue with a full month of travel in youth hostels, so I had to do all the administrative steps (
bank account
,
phone
,
IRD number ...
) in four days, while visiting as much as possible. No time to stop for a moment!
Guillaume :
Have you found the time to enjoy the city of sails (the nickname of Auckland) despite everything?
Isabel :
I was going out of a museum to board a boat, before going to another museum, before having for a drink with new friends. There was a cultural shock too, between this hard to grasp accent, the discovery of the population and the probably innate kindness of the locals ... I would have liked to stay longer in
Auckland
to better discover the city!
---
Living in Wellington.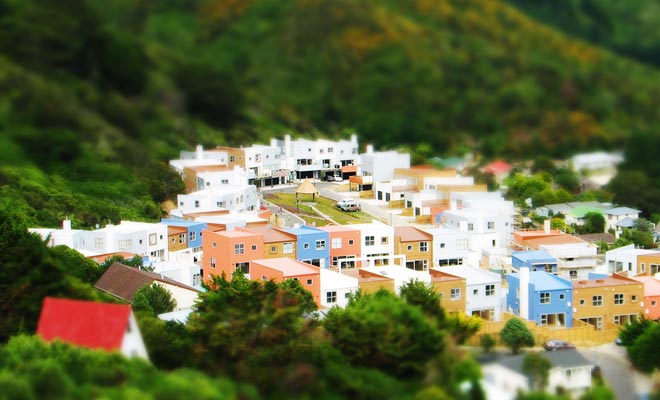 Like the majority of travelers with a Working Holiday Visa, Isabel landed in Auckland. But it was in Wellington that she spent most of her stay in a shared apartment.
Guillaume :
Why did you stay so long in Wellington?
Isabel :
Wellington was the city where my month of exploration on the North Island was supposed to end. I thought I would stay there for a month or two and then go back to another city. And then, I found friends, a lover, a social network, a job and I decided to stay. I also fell in love with the city, which is constantly in motion, with always a festival going on. Wellington was to be a simple step and nothing more but the city became a second home.
Guillaume :
I think this is a topic that will interest most of the aspirants to the Working Holiday Visa: how did you find your shared apartment?
Isabel :
I found two shared apartments in Wellington. The first one, I found it online on
nzflatmates.co.nz
, from France. In other words, when my bus dropped me off at Wellington Station, I was wondering if I really had a roommate waiting for me. In the end, it was a large house on the heights of Karori, an unobstructed view and great roommates.
Guillaume :
It's really a fantastic neighborhood, and next to Zealandia! How did you find your second
shared apartment
in Wellington?
Isabel :
I found her on the spot, next to the downtown, with a friend, on
TradeMe.
One must know that people usually ask a two weeks of rent in advance plus a security deposit (between 2 to 4 weeks of rent). My advantage was that I was traveling alone and did not have a cat. These are the two main obstacles when looking for a roommate in Wellington, most of the time.
---
How Did She Pay for Her Trip?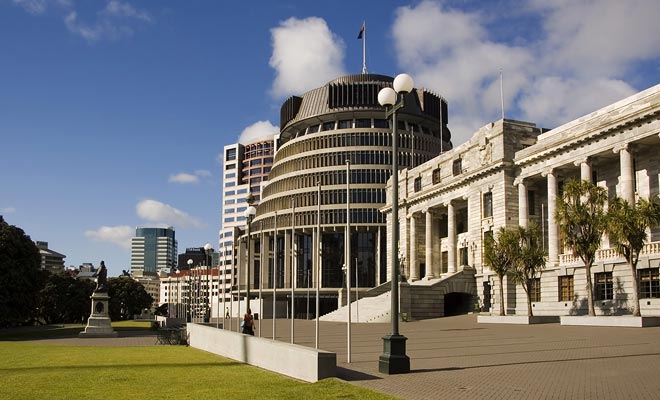 The budget issue is very tricky, and any trip can turn into a fiasco if one does not organize properly. Isabel happily found the formula to work and enjoying her Working Holiday Visa.
Guillaume :
Knowing that a badly managed budget is often synonymous with return in the home country, how did you manage your budget on a daily basis?
Isabel :
At first, very badly. It should be noted that the salary is not paid monthly and that the rent is to pay twice a month. My salary was paid weekly, but not my rent... so at the beginning, my organization was chaotic, but with the habit it's not so hard. Big advantage; Taxes are collected by the employer, so I had nothing to do about that.
Guillaume :
But you still had to find work! What kind of job can be found in Wellington with a Working Holiday Visa?
Isabel :
Almost everything. It is the capital of the country and the place on earth holding the record number of cafés per inhabitant. So if one wants to work in the restoration, it's an easy choice. Just as working for the New Zealand government is quite easy.
Guillaume :
I'm not surprised about the jobs offers in the tourism sector, but I did not imagine that one can work directly for the government! What position did you occupy?
Isabel :
Through my research in the interim sector, I found two positions in the administration, one of the social branch of the Ministry of Housing and one for IRD, the equivalent of our public finances. Once my research started, I found my first job in only one month.
Guillaume :
It sounds like a real job rather than a little student job ... the experience lasted how long?
Isabel :
My first 10-week contract was extended over 5 months and if I had not had visa expiry concerns, I would have got a six-month contract as service manager in Christchurch. So one can find all kinds of work, quite easily, and I found that people are given a chance to prove their valor if they are motivated.
Read this article from Isabel to learn more info about her Working Holiday Visa in Wellington.
---
Meetings With the Kiwis.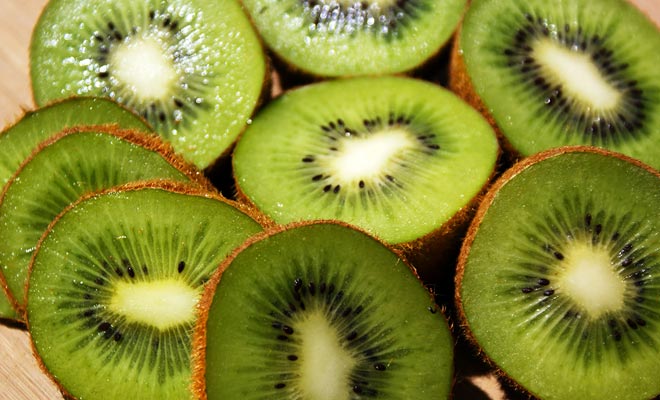 If New Zealand attracts more and more young people with its Working Holiday Visa, it is not only because of the beauty of its landscapes. The legendary hospitality of the New Zealanders (the Kiwis) is recognized throughout the world and Isabel can testify of that.
Guillaume :
New Zealand has recently been ranked as the second most welcoming country in the world. How did you find the Kiwis?
Isabel :
Servable, open-minded, very pleasant. And this is part of the cultural shock experienced when arriving. When you have a problem, people offer to help you. It's almost automatic and damn scary when you've lost that habit. People do not know you, but it does not matter.
Guillaume :
Can you tell us an anecdote that illustrates the spontaneous character of the New Zealanders?
Isabel :
Arrival in Kaitaia, I go to the tourist office ask when is the next bus leaving to Ahipara (15 km away). The front desk agent tells me that there is no bus during the weekend, but if I can wait two hours, she can drop me if I want to. Just like that...
Guillaume :
At first, one often believe that it just luck, but this kind of attention is finally almost the rule ...
Isabel :
In Russell (Bay of the islands),
I ask a cashier of the supermarket if I should turn to the right or to left to reach my hotel. She suggests a direction, but a man in the queue says that she is wrong, take my map, realize that my hotel is in his neighborhood and that he'll drive me there directly.
Guillaume :
It seems unimaginable in many countries, but does it make it easier to find a job?
Isabel :
When I was looking for a job, people I had just met wanted to spread my CV to their friends. Then, as everywhere, it takes everything to make a world, but in general I found the Kiwis extremely welcoming, proud of their country and enjoying life.
Guillaume :
I take this opportunity to ask you the opinion of the Kiwis about the French people?
Isabel :
Much better than what one can think. We are mainly known for rugby and they appreciate the high level of our team. So, just for that, we are appreciated.
Guillaume :
But has the Rainbow Warrior affair been forgotten since 1985?
Isabel :
The generation remembering the Rainbow Warrior concedes that it was the responsibility of the French government, not the French in general. They do not hold us accountable for being the only act of terrorism that has taken place in their country.
---
The Atmosphere of Rugby Matches.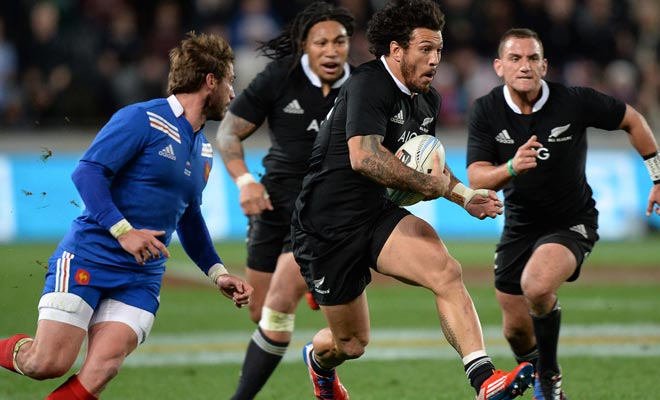 The haka attended by Isabel in New Plymouth.
New Zealand is the country of rugby fans. While tourists who travel in the summer do not often have the opportunity to attend games, the young people with a Work Holiday Visa have this privilege, and Isabel was no exception.
Guillaume :
Do you like rugby, and did you see matches during your stay in New Zealand?
Isabel :
When I was a kid, my idol was Jonah Lomu. And watching a match of the All Blacks in New Zealand was a dream. i was lucky because, the French Team came to play in New Zealand and I attended one of these test matches. The New-Plymouth stadium has a 25,000 seats capacity and it was crowded.
Guillaume :
Were there any French fans on the stands or were you the only French?
Isabel :
A quick glance allowed me to estimate the number of French to be about fifty ...But the mood was good, and France had already lost the previous match 30-0... While queuing for a beer, I remember that a kiwi boy asked his father, "what would happen if the French were able to win" ...
Guillaume :
A beautiful memory, but I hope you wore the colors of France during the match?
Isabel :
I remember two great moments; Singing the Marseillaise (French national anthem) while trying to make believe that we were at least 500 people, and, of course, attending to a real Haka! Oh! and a third great moment: to be in front of the posts when Carter missed his penalties. One regret was not to attend a game of the Sevens when the competition was held in Wellington, but I was able to see the parade and the team of France during the welcome ceremony.
Find the feedback of this rugby match on Isabel's blog.
---
Unforgettable Experiences in New Zealand.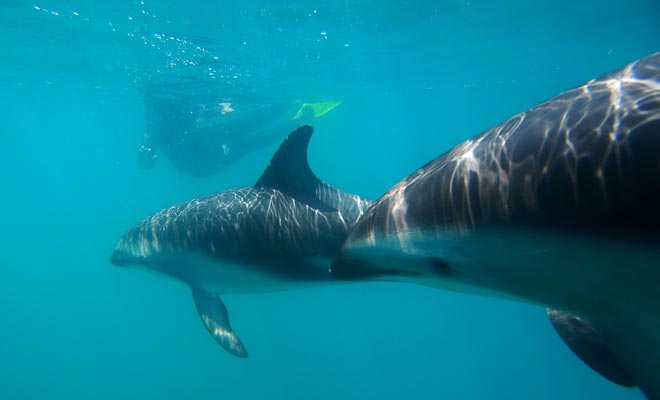 Difficult to imagine a more intense experience than a six-months stay in a foreign country. Isabel had to rely almost exclusively on herself, but the memories are extraordinary.
Guillaume :
On a stay so long, the memories are counted by hundreds, but what were your strongest moments on the emotional level?
Isabel :
My face to face with a dolphin, the whole rugby match of the All Blacks, my walk downtown after the earthquake (it had been closed for security), my walk for two hours on the
White Island Volcano
(still in activity), my visit at the
Cape Reinga
... feeling so small in front of the Kauri tree Tane Mahuta (13m wide, 50m of high, 2000 years of age)... watching a sunrise between two snowy volcanoes... and to have seen the Hobbit premiere in Wellington...
Guillaume :
But a Working Holiday Visa almost always implies a big problem ... didn't you have any real trouble?
Isabel :
Apart when I learned that my apartment was flooded, the
earthquakes
and my tearful departure ... the trip highlights were all very positive.
Guillaume :
This is a subject that sometimes worries newcomers ... have you experienced earthquakes?
Isabel :
Earth is constantly trembling in the country and if you want to be scared, you have to subscribe to
@geonet on Twitter
which lists the tremors in real time. At first, one is afraid and then we no longer react to the tremors below a magnitude of level 4.
Guillaume :
It does not look so frightening after all ... it's a matter of habit?
Isabel :
Yes, but at the end of July when I had a earthquake with a magnitude 5, even reaching 6.9, and shaking more or less strong during a whole weekend ... almost nonstop ... I was quite afraid! Especially when the locals start to panic! It should be noted that the terrible Christchurch's earthquake is still in memories, and that at magnitude 7.5, Wellington start a tsunami alert.
Living earthquakes every day, Isabel talks about it on her blog.
---
Best Memories in New Zealand.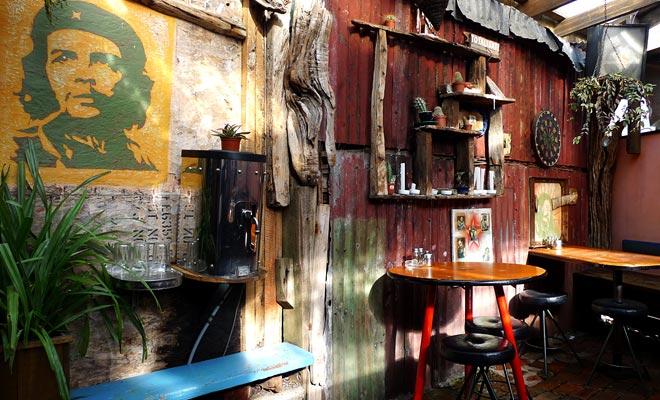 Unlike the holidaymaker who relies on a travel guide, people with a Working Holiday Visa must improvise and they will often discover wonders that are more authentic. Isabel was kind enough to give us some of her best addresses!
Guillaume :
Because you have spent almost a whole year in New Zealand, you can certainly advise us some nice cafés or restaurants?
Isabel :
In Auckland, for a good Fish & chips I recommend
Queen's Ferry Hotel
on Vulcan Street, downtown. There is also
Origins
in Parnell, for a good breakfast. I love the
Waitomo's General Store
in Waitomo Caves, which serves a lamb burger to die for. In Whangarei, the well-named link~http://www.caffeinecafe.co.nz/~Caffeine] offers an excellent map and the best coffee in town.
Guillaume :
And in Wellington, a city you know by heart for having worked there for several months?
Isabel :
Wellington is full of small restaurants and cafes, with a lot of good choices along Cuba St (
Olive
,
Plum
,
Fidel's
,
El Matador
, ...) and Courtenay Place. Side cafes,
Memphis Belle
,
Mojo
and
The Hangar
. And if you want to eat Malaysian for cheap:
KK Malaysian.
. For beer,
The Rogue & Vagabond
,
Southern Cross
and
Hashigo Zake
. The best pizzas are at
Pizzeria Napoli
(or takeaway at
Tommy Millions
). And anywhere in the country, if you see a
Burger Fuel
, go for it, if only for their kumara fries (sweet potato fries).
Guillaume :
And when you were tired of the Anglo-Saxon cuisine, what did you do?
Isabel :
If you miss France traditions, pay a visit to
Crêpe-a-Gogo
on Manners Street, in Wellington, for a good crêpe with Nutella (French pancakes with chocolate spread) and the pleasure to hear people speaking French.
---
And if It Was Possible to Start Over…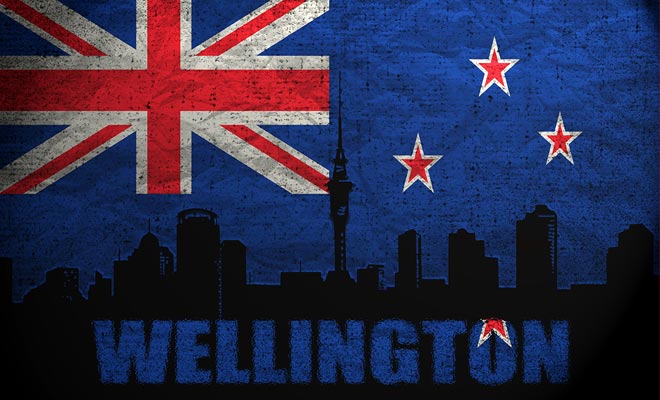 One can say that Isabel had a great Working Holiday Visa travel. But when it's time to look back, we asked her if she would do exactly the same thing.
Guillaume :
Some people try bungee jumping; others try skydiving ... Did you take advantage of your Working Holiday Visa to try to surpass yourself?
Isabel :
I discovered surfing ... to be honest, I did body-surfing trying in vain to get on the surfboard, all in one of the 10 best surfing spots in the world. It was magical!
Guillaume :
In addition to try to improve your surf level, what would you change if you could do a second
Working Holiday Visa trip?
Isabel :
I would start to find a job first. And maybe I would travel more, rather than staying 8 months in the same city, although this it is something I do not regret. But yes, I would probably look for a job sooner, to get the opportunity to do things I didn't do the first time, like doing a hiking trek on the South Island, or going back to Ahipara for a week to have the waves just for me. And buying a car to avoid the bus and being able to have a break wherever I want.
Guillaume :
Thank you for having accepted this interview for Kiwipal. I want to make clear to our readers that it was just a short overview Isabel's journey. Those who would like to know more can
visit her excellent blog,
and discover the story of a unique adventure in New Zealand!
---
Places visited during the travel in NZ
This map gives you an idea of the itinerary.
Best memories
The Northland
Wellington
The New Zealanders
Doubtful Sound
Local beers
Some regrets
Not having done the full SH1
To have not done the Tongariro
Not having rent a car
To be back in France!
From 1355 € / person
Any Question?
Seek advice from experts in New Zealand:
Invalid email or message is too short!
Message sent !
A Kiwipal guide will answer to you as soon as possible. Thanks!