The Road-Trip of Nathalie in New Zealand.
Book your New Zealand Holiday!
Please contact us and we will help you to organize your trip! It's free and without commitment.
Ask a question ...
The trip in New Zealand.
1

Meeting With Nathalie.

2

A Passion for Wellington.

3

Organize Yourself, but Be Ready to Improvise.

4

Driving a Motorhome in New Zealand.

5

Should We Visit a Specific Island First?

6

Prepare Yourself to Go Hiking.

7

The Hospitality of the New Zealanders.

8

A Future Life in New Zealand?
---
Meeting With Nathalie.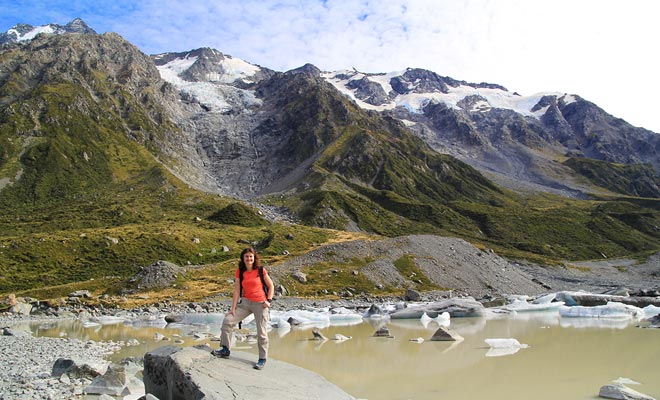 The least that can be said is that Nathalie knows New Zealand well. The exchange that will follow should be very useful to all those preparing a stay, especially in a motorhome.
Guillaume :
Perhaps it is related to Peter Jackson's movies, but where does this passion for New Zealand come from?
Nathalie :
Well, it's not because of the Lord of the Rings trilogy. In 2009 I saw a beautiful documentary on television that reminded me a geography course in college. The professor, with the aid of a terrestrial globe, asked us the question which country would lies under our feet if we had to cross our planet Earth by its center? The answer was New Zealand. Far later people were talking about the Rugby World Cup 2011 so I read tourist guides and history books, and it was certain that I would succumb to the
beauty of this country.
Guillaume :
You visited the country twice (in 2010 and 2014), what is your best memory?
Nathalie :
If I really have to give only one, it will be very difficult ... Even though I loved the
Tongariro Alpine Crossing
on the North Island, I will choose Roy's Peak in
Wanaka
on the South Island! The summit offers a breathtaking 360° view of the snow-capped peaks and glaciers of Mount Aspiring National Park.
---
A Passion for Wellington.
I am an unconditional fan of Wellington, and always happy to meet travelers who also enjoy this city that resembles San Francisco. Windy Welly (as it is nicknamed) is ranked 13th among the most pleasant cities in the world (Mercer Index).
Guillaume :
Which city did you prefer during your stay, and for what reasons?
Nathalie :
I had a crush for
Wellington.
I visited it for two days, just after a strong storm (I practically had no wind during my stay). It is a very dynamic and human-sized city. Wellington has an intimate atmosphere, because everything is concentrated around the waterfront (whether for museums, restaurants, shops). In recent years, the town rehabilitated old docks with shops and art galleries. And how not to succumb to the beautiful wooden houses built on the hillsides all around?
Guillaume :
Not to mention that there are even beaches with dolphins swimming offshore ...
Nathalie :
Yes, and cultural life is very rich all year round. I loved visiting the Te Papa Museum (I went twice in the afternoons and I have not seen everything yet!). I left my camper at Waterfront Front Motorhome Park, as everything is within a 10-15 minute walk, whether it's restaurants, museums or the Westpac Stadium for rugby matches ... I'll need to go back to Wellington during a windy day, then I'll be able to tell you if I still love the city as much.
---
Organize Yourself, but Be Ready to Improvise.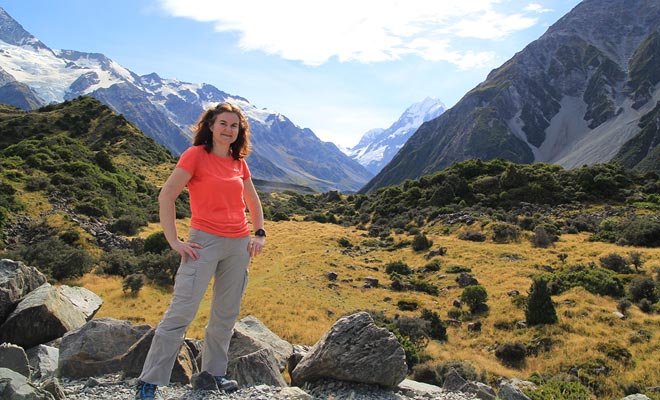 New Zealand is a country where the weather can change frequently during the day. This sometimes complicates the stay of vacationers whose hotel reservations cannot always be changed at the last minute. Fortunately, Nathalie had a camper van.
Guillaume :
Have you changed your itinerary along the way due to the weather?
Nathalie :
Yes, and I did mostly according to the weather conditions, because whatever the destination, I always adapt my itinerary if needed. When I plan my trip, I keep a day of margin per week in case of bad weather to maintain a hike that I absolutely want to do, or to be able to stay longer in a place that deserves it.
Guillaume :
Can you give us some examples where the motorhome allowed you to change your itinerary at the last minute?
Nathalie :
Initially, I had planned three days at
Mount Cook
(with one day of margin) and unlike 2010 where I could not make any trek due to heavy rain, I had an excellent weather. The extra day allowed me to visit to the Otago Peninsula (a visit which I had not planned initially.) I had to shorten a hike at
Punakaiki
because of a river rising. I made a small detour through Nelson Lakes National Park.In the region of
Abel Tasman,
I had planned to spend three days, but a strong storm appeared and I was only able to stay one day.
Guillaume :
What a pity because the park with its orange sandy beaches is really nice usually ... what did you do instead?
Nathalie :
I visited a funny museum in Nelson and thanks to the open Ferry ticket, I changed the date of the crossing, which allowed me to spend three days in Wellington instead of two. I regularly go off the beaten track, driving on secondary roads or gravel roads. The GPS is highly recommended because one gets lost very easily, but it is so rewarding to come across breathtaking landscapes and meet fur seals while there is nobody around!
---
Driving a Motorhome in New Zealand.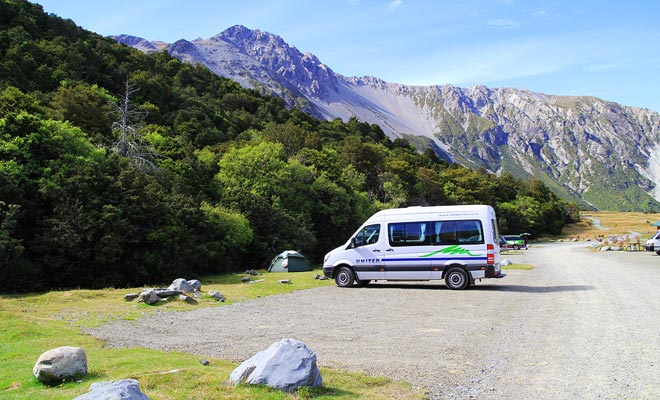 At the time of making a choice, many travelers hesitate between the car and the camper van. But the prospect of driving such an imposing vehicle is enough to discourage many beginners. But Nathalie did not hesitate, and her opinion on the matter can help you to choose.
Guillaume :
What advice would you give to those who have never driven motorhomes and who apprehend before departure?
Nathalie :
I have chosen a vehicle with an automatic transmission to make my life easier, and to be able to concentrate only on the road and the scenery. Do not be afraid to try. It's no more complicated than driving a utility when you move. The driving is a bit confusing at first, because you drive to the left with a steering wheel at the right, but you get used quickly. The camper is heavier than a car, you have to adapt your driving because the braking distances are lengthened.
Guillaume :
Typically, should one pay more attention when you turn?
Nathalie :
One should always pay attention to the yellow panels with an arrow and an indication of speed. They indicate that you must take the turn at the speed indicated. Turns are often important on mountainous or forest roads. I once did not use the brakes when it was needed on a slippery road, and my vehicle was deported on the right lane in reverse. Luckily for me, there was no one in front otherwise it was the accident for sure!
Guillaume :
It's obvious that one must be vigilant so that everything goes well, but is it easier to drive inside the country or downtown?
Nathalie :
One should always pay attention to the yellow panels with an arrow and an indication of speed. They indicate that you must take the turn at the speed indicated. Turns are often important on mountainous or forest roads. I once did not use the brakes when it was needed on a slippery road, and my vehicle was deported on the right lane in reverse. Luckily for me, there was no one in front otherwise it was the accident for sure!
Guillaume :
What about parking? It is on of the most often asked question on Kiwipal. How did you do?
Nathalie :
The visibility right behind the camper is completely inexistent, and it is preferable that a second passenger guide the driver. For safety reasons, the gas bottle must be systematically closed when the vehicle is in use. Every luggage and other utensils inside must be stored in the cupboards and these must be closed!
---
Should We Visit a Specific Island First?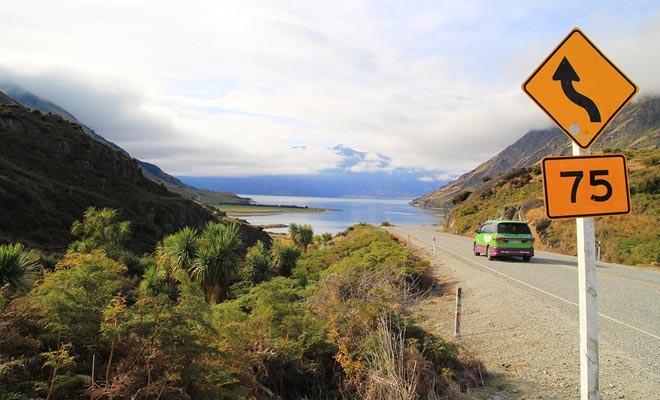 By dint of receiving this question, I decided to ask it in an interview. Nathalie's answer did not surprise me, as most travelers share his opinion at the end of their stay.
Guillaume :
So here is a question a bit controversial, can we just visit the South Island or do we have to see the North Island as well?
Nathalie :
I must confess that the North/South debate exasperates me a bit! We do not all have the same tastes. Why want to do absolutely like the others? The two islands are truly different and deserve each to be explored. The South Island is marked by mountains, fiords and glaciers, and most of the so-called "extreme" activities are found there, particularly in Queenstown. But do you know that you can do a free fall in Taupo for $100 cheaper than in
Queenstown?
Guillaume :
It should also be remembered that the North Island is the most populated and its relief is also spectacular, but with an even milder climate.
Nathalie :
The North Island is volcanic with active geothermal areas. Imagine having a hot swim on a beach at low tide! It's possible at
Hot Water Beach!
It is not for nothing that this island is called "the smoking island". And if you want to swim it will be easier on the North Island in a cove of
Bay of Islands
or
Cathedral Cove
than in the South Island where the water is much colder ... Not to mention the thermal springs in
Rotorua region.
---
Prepare Yourself to Go Hiking.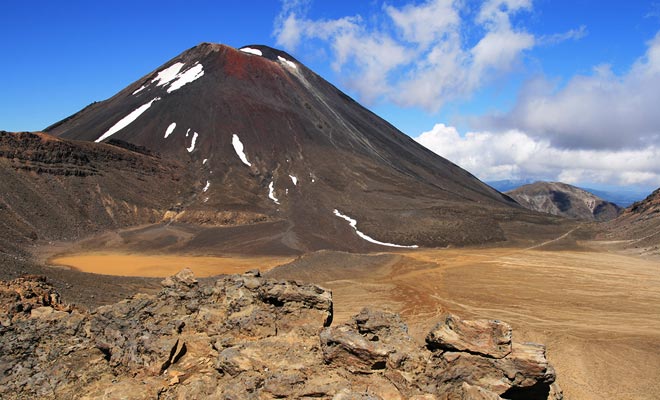 With its fourteen national parks, New Zealand has exceptional treks, not always suitable for beginners. Nathalie has an excellent level of endurance and her field experience should help you plan your stay.
Guillaume :
What level of training does it take to follow long hikes?
Nathalie :
These are hiking trails for a single or several days. Good walking shoes are compulsory, and you must have a good physical condition and a minimum trained to walk in the mountains. I recommend some first aid knowledge, because in case of accident the telephone network is often non-existent. The paths are well signposted, but not systematically maintained. You can have some difficult parts to manage like fords or rivers with water up to the knees.
Guillaume :
Apart from the Tongariro Crossing, most of the big hikes take place over several days. What about the rhythm?
Nathalie :
If you want to follow a "Great Walk" for several days, you have to support four to eight hours of walking a day with your complete equipment (clothes, sleeping bag, stove, gas bottle, provisions ...) the back. You share the nights in refuge with other hikers (booking obligatory and paying in high season). I am very sporty and well trained for this type of walk. My average speed is between 4.7 and 5.2 km / h depending on the terrain. If you are used to uneven terrain with an average speed of 2 km / h, and if you do not practice regular sports, it will be difficult to follow the Great Walks because the steeps are sometimes very inclined and the terrain is rough. Opt for walking paths (often accessible to people with reduced mobility) well-marked and maintained: a simple pair of sneakers will suffice for that.
Guillaume :
And assuming that you lack training, and that you want to prepare the Tongariro Crossing or even the Milford Track for a three to five days trek, what would be the training to follow?
Nathalie :
I recommend two half-hour sessions per week. It is better to start three or four months before the trip and gradually increase the duration of the exits until you can hold 45 to 60 minutes to improve endurance. Walk every weekend from 5 to 6 hours minimum, with a backpack of 4 to 10 kg, and if possible on rough terrain. Be careful never to go hiking without having studied a minimum the map. You must know in advance the difficulties, possess the appropriate material and be listening to your body. On the eve of the D-day, check the weather report or the tide timetables,
it's a matter of security.
---
The Hospitality of the New Zealanders.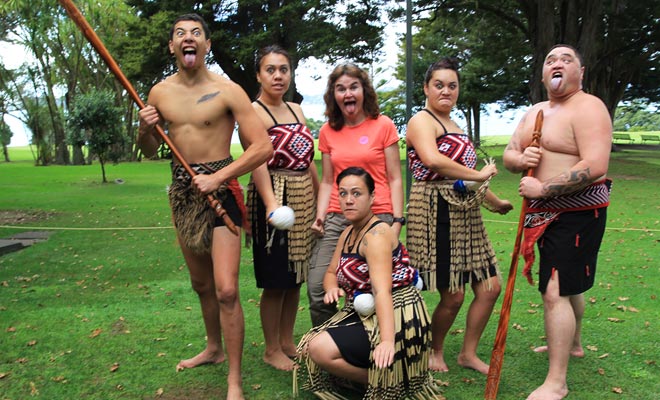 Opinions differ on the origin of the sense of hospitality of the New Zealanders. What is certain, on the other hand, is the profoundly generous and welcoming character of the local population. And Nathalie can testify like most travelers.
Guillaume :
How do you like the Kiwis if you compare them with the French?
Nathalie :
What struck me was their sense of hospitality, even with complete strangers. This is rather disconcerting at first glance because they show a spontaneity that gives the impression that they are always available. They do not hesitate to help for the slightest problem without even being asked. Cooperation and sharing are explained to the children from their youngest age.
Guillaume :
Can you tell us a little anecdote that sums up well the character of the inhabitants?
Nathalie :
I remember a great moment during my trip to Thames (Coromandel), a Kiwi family on holiday who played cricket in the middle of the campsite where I was staying for the night. I encouraged a child who had trouble hitting the ball. After several tries with a ball finishing at the foot of my camper van, the parents simply invited me to come and play with them. We finished the game and improvised a barbecue and I noticed how proud they are to realize that people are interested in their little country at the end of the world. They asked me where I came from, which sport I was practicing, where I had already traveled in New Zealand ... It is a way of life in which I fully love, but which is rare in France.
---
A Future Life in New Zealand?
It is not uncommon that a stay of a few weeks makes you want to return to New Zealand to settle there permanently. But the process is far from easy, the country being particularly strict in terms of immigration.
Guillaume :
With such a great interest for this beautiful country, it is legitimate to ask if you have considered becoming a Kiwi one day?
Nathalie :
Yes ! As soon as I returned from my first trip in December 2010, I dreamed about that for days and nights. I had even begun the process of having my diplomas and other important documents translated by a New Zealand translation agency (a law firm authorized by immigration). Only I was no longer entitled to the
Working Holiday Visa
and I work in a domain (accounting & management) that is not on the short list of the most wanted profiles. My degree is not yet recognized in New Zealand without the possibility of an equivalence.
Guillaume :
What steps have you taken?
Nathalie :
I need a work visa with a points system, plus the additional costs required before filing the application (not reimbursed in case of refusal). From memory, without visa fees (which had to be about $NZ 380), it is necessary to spend at least $NZ 750 euros in medical visits. Not to mention the costs of translating documents (between $ 30 and $NZ 60 depending on the type of document). After eight months and after looking for a job on the spot, I had to resign myself to going back only as a tourist ... but one must never say never, because there are a lot of visas for New Zealand, like the business one ...
Guillaume :
En attendant, j'ai vu que tu avais entrepris de raconter ton dernier voyage sur
ton nouveau site Internet.
Les premiers articles sont passionnants et ce n'est qu'un début ! Je te remercie mille fois d'avoir accepté de répondre à mes questions !
Note : The issue of the budget was supposed to be discussed here, but the topic, although highly interesting, was too complex for one single interview. There is no doubt that this exceptional content will be available soon on Nathalie's Website, so if you are preparing your stay in New Zealand, you know where to go ...
© Photos copyright Nathalie (@Nathglobetrotte).
---
Places visited during the travel in NZ
This map gives you an idea of the itinerary.
Best memories
The hospitality of the kiwis
The Tongariro crossing
Wellington and its dynamism
Doubtful Sound Cruise
Treks in any condition
Some regrets
Abel Tasman under the rain
Taranaki hidden by the clouds
To have missed the Marlborough
Not to have road-killed possums
To have missed Eden Park
From 1355 € / person
Any Question?
Seek advice from experts in New Zealand:
Invalid email or message is too short!
Message sent !
A Kiwipal guide will answer to you as soon as possible. Thanks!